Mine Design, Operations and Closure Conference
May 8-11, 2023
Registration is now OPEN! Click here to register and once redirected, click on the Blue "Add Item" button.
Please contact Susie Anderson at 406-496-4311 or suanderson@mtech.edu with questions.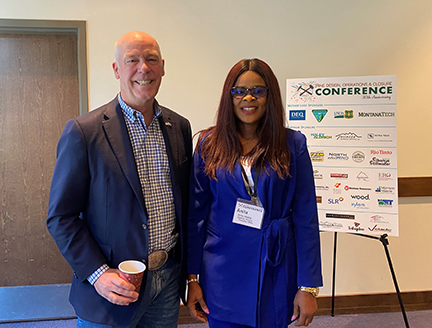 Anita Nweke, a 2022 conference attendee who traveled from Nigeria, is pictured with Montana Governor, Greg Gianforte, before his opening remarks on the first day of the conference. 
The Mine Design, Operations & Closure Conference is back for its 31st year! Known for its strong educational component and networking opportunities, this conference is one you won't want to miss. The event will once again offer the latest in mining-related technologies and methods, delivered by a host of industry professionals. Make plans to attend!
---
Call for Abstracts
If you are interested in submitting an abstract for consideration, please submit to Susie Anderson at suanderson@mtech.edu no later than January 17, 2023 . Please include a complete title of your talk along with the category of your presentation (e.g., reclamation, closure, water, permitting, development, research, etc.). Please limit your abstract to no more than one page. Click here for a formatting example.
---

 The conferences "Founding Fathers" pose for a picture before the start of the conference. (L-R): Patrick Plantenberg, Mike Burnside, Warren McCullough, & Dave Williams. (Missing from this picture: Karl Burgher, who participated via Zoom).
Location
Fairmont Hot Springs Resort will serve as the host facility for this event. Bring your family along—there is plenty to do!
Swimming
Fairmont Hot Springs Resort is known for its two oversized Olympic Swimming Pools and two Mineral Soaking Pools. One of each located indoors and outdoors. The pools are fed by a virtually unlimited supply of 155-degree natural hot spring water, cooled to various temperatures for comfort and maximum enjoyment.   If swimming and soaking is not your thing, try the excitement of the 350-foot enclosed water slide. The slide offers an exhilarating ride into Fairmont's outdoor pool.  During the Summer season, you can enjoy any of your favorite tropical drinks at the outdoor "pool" bar.  The "pool" bar has all of your favorite drinks as well as an assortment of non-alcohol drinks.
Fitness
Adjacent to the indoor hot spring pools is a newly remodeled Fitness Center.  It's fully equipped and complimentary to resort guests.  The Fitness Center includes state-of-the-art cardiovascular systems.
Golf
Fairmont's Golf Course features an outstanding 6,741 yard, 18-Hole, par 72 layouts. Fairmont's "mile high, mile-long" 5th Hole is recognized as one of the most challenging among Montana golf courses. The green is a mile high and the Tee Box is 649 yards away, making this par 5 one of the longest holes in Montana. Fairmont's 3rd hole features Montana's largest green, a three-tiered 10,000 square foot putting surface.  Five ponds add to the diversity of the 150-acre course, with a dramatic fountain pond on the finishing hole. A full-service Golf Shop with snack bar, beer, and wine service completes the course facilities. Cart and equipment rental are available.
Spa Treatment
Whispering Willows Spa offers quality massage, bodywork and spa services by certified massage therapists along with hair and nail treatments by experienced cosmetologists.
Extras
Fairmont also offers tennis courts that are complimentary to registered guests, a children's playground, miniature golf course, frisbee golf "folf", and basketball courts.
Room Rates

$96 plus tax – single room
$111 plus tax – double room
$126 plus tax – triple room

Reservation Information
Overflow Rooms

Butte's Hampton Inn (Butte is located 15 miles East of Fairmont)
3499 Harrison Ave.
Butte, MT
Reservations: Call the hotel directly at 406-494-2250. Mention the Mine Design, Operations & Closure Conference to receive conference rates.
Room Rates

$98 plus tax - single room
$111 plus tax - double room
---
Conference Fees
$160        Monday Field Trip (full day)
$395        Full General Session (Tuesday – Thursday)
$140        Daily General Session (Wednesday or Thursday)
$115        Daily General Session (Thursday)
$235        Virtual General Session
Cancellation/Refund Policy
A full refund will be issued to any conference registrant who cancels up to one week prior to conference time.  Any cancellation with less than one week's notice will result in a 50% refund.  Those who register but do not show up to the event will forfeit their entire registration fee.
---
Professional Development Hours (PDHs)
By attending the Mine Design, Operations & Closure Conference, you will be eligible for Professional Development Hours (PDHs). Each hour of class time equates to one PDH.
---
Connect with us.
We can answer your questions.
Susie Anderson
406-496-4311
suanderson@mtech.edu