Mountain Biking in Montana - Student Life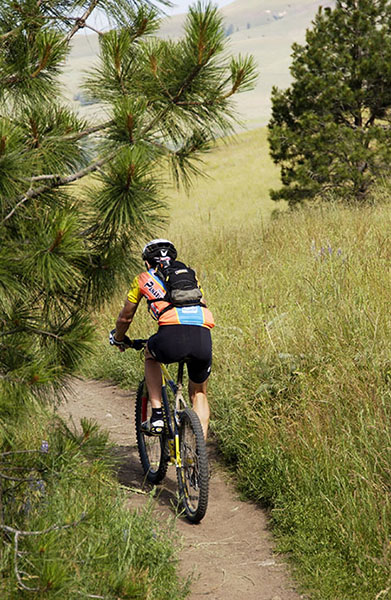 Mountain biking blog Singletracks, named Butte one of 10 U.S. mountain bike towns with the lowest cost of living, citing a low median home price and 300 miles of single track in the area.
Butte has two community riding clubs, the Highlands Cycling Club and the Butte Coca-Cola Racing Team. 
Whiskey Gulch Mountain Bike Skills Park on the Montana Tech Campus
Montana Tech boasts its own mountain bike skills park on campus. More information may be found here.
On 30 acres owned by Montana Tech
Adjacent to the Big Butte Open Space with several miles of good biking
Adjacent to many miles of dirt road biking
Well constructed banked turns
A pump track
Skinnies of various heights
Very easy to do a "between classes" mountain bike ride
More trails than are shown on the map
Hosing a maor fat tire over the snow race winter of 2019
Montana Tech provides mountain bikes and helmets for students to borrow free of charge. Check out our outdoor gear rental page for more information.
Discovery Bike Park
Nearby Discovery Bike Park is only an hour away and is a challenging course designed for intermediate and experienced mountain bikers and park riders. The park is located on the backside of Discovery Ski Resort and drops riders approximately 1,050 vertical feet. Features include wall rides, bridges, jumps, logs and drops. The park is professionally maintained to smooth out jarring ruts and washboarding for a true pro-style experience.
Butte 100 Race
The local Butte 100 Race, "the most difficult 100 mile bike race in the country" is held each July in Butte. The Butte 100 race series annually hosts over 300 riders from 16 states and two countries. A regular Butte 100 competitor and Olympic mountain biker Tinker Juarez said of the race "the most difficult mountain bike race in the country," which has inspired both amateurs and professionals to take on the course that follows a portion of the Continental Divide.
Continental Divide Trail
The Continental Divide Trail runs through Butte and is a popular destination for mountain bikers.