Design, construct, and manage surface and underground mines around the world with a degree in Mining Engineering from Montana Tech.
Why Study Mining Engineering at Montana Tech?
Mining engineering students receive a well-rounded skill set and readiness to work through the ABET-accredited mining engineering bachelor's degree or master's degree.
Mining engineering is a versatile field, opening doors to a variety of career options. Students have access to cutting-edge labs and equipment, including an on-campus underground lab. They learn to execute high-tech computer designs to see tangible results. This is one of the few fields of study where working with explosives is encouraged, and students learn to do so with care and expertise. Mining engineers also have an interest and knowledge of environmental stewardship and mine reclamation— the process of restoring land that has been mined.
On-Campus Underground Mine Education Center
When pursuing your mining engineering degree at Montana Tech, you'll have plenty of hands-on learning opportunities. Montana Tech has the only on-campus underground mine in the country where you can learn. You will also have access to state-of-the-art and fully equipped laboratories.
Gorgeous Location
By earning your mining engineering degree at Montana Tech in Butte, you'll have easy access to an outdoor enthusiast's paradise. Montana Tech is surrounded by six mountain ranges, two national parks, and five rivers, offering you endless opportunities to ski, hike, fish, and just enjoy the beauty of Montana.
Mining Engineering Internships
Our graduates are well prepared for careers in mining engineering due to their internship experiences. Gain even more hands-on experience through mining engineering internships locally in Butte or across Montana and the nation. Our department boasts a 96% placement rate for student interns.
Outstanding Outcomes
At Montana Tech you'll have the opportunity to engage in hands-on learning with a 10:1 student to faculty ratio. Our mining engineering degree program also boasts a 100% career outcome rate.
Study Mining Engineering and Have Fun Too
Make the most of your time at Montana Tech by getting involved in academic and special interest clubs, engaging in student activities and events on campus, and taking on leadership roles through Student Government. Take a break from your studies in mining engineering to fish in pristine mountain streams, ski, enjoy local hot springs, and hike the Great Divide.
Support for Your Mining Career Success
Montana Tech prepares you to be highly sought after for mining engineering careers. Montana Tech faculty will encourage you to pursue professional licensure and other certifications to advance your mining engineering career. You'll also benefit from a highly engaged Career Services team, which will assist you in finding mining engineering internships and jobs in mining engineering.
Active Advisory Board
Led by industry professionals and executives, the Industry Advisory Board of Montana Tech will actively advise and participate with the Mining Engineering Department resulting in sustained recognition of Montana Tech as the world's leader for providing talented and versatile mining engineering graduates.
Mine Rescue Team
Montana Technological University Mine Rescue is a student run organization that aims to give our members the skills and experience of being on a mine rescue team. The club focuses on preparing for collegiate and professional mine rescue competitions where teams get to respond to scenarios and hone their rescue skill set as well as network with members of the industry. Team members are taught hands-on first aid skills in addition to the care and maintenance of specialized mine rescue equipment. The knowledge that we gain will be valuable for the rest of our careers, even outside of mine rescue.
5th Year Master's
Qualified Montana Tech undergraduates have the opportunity to receive an accelerated MS program by getting a jump start on required graduate coursework. Careful design to include qualifying graduate-level coursework into the undergraduate curriculum will lead to an accelerated MS degree, as there is the opportunity to count up to 9 credit hours toward the graduate degree.

Engaged Faculty with Experience and Expertise
Link to Faculty

What is Mining Engineering?
A degree in mining engineering begins with learning the mechanics of geological materials, blasting, materials handling, mine valuation, ventilation, and designing/operating of surface and underground mines.
What Kind of Jobs Do Mining Engineers Do?
Graduates of the Montana Tech mining engineering bachelor's degree program can expect a 100 percent career placement with impressive starting salaries and quick advancement opportunities. Mining engineering graduates pursue careers in coal mining, hard rock mining, open pit and underground construction management, and industrial materials and aggregate.
Where Do Our Alumni Work?


$97,090
Median annual wage, 2021

1 of 14 Universities Offering This Degree
Being a part of the Mining Engineering program was a great experience. It prepared me to hit the ground running after graduation through a wide range of class work, as well as real world hands on experience through the Underground Mine Education Center. During my time in the department, I was also able to participate in professional clubs such as Mining Team and Society of Mining, Metallurgy, and Exploration, which led me to lifelong friendships. These clubs gave me the opportunity to learn about the newest technologies in industry and allowed me to begin networking early in my mining career.

Doug Peters

B.S. Mining Engineering, 2017

Senior Mining Engineer at Nevada Gold Mines
The Montana Tech Mining Engineering Department became my second family. I met some of the best people I know while being a part of it. The department prepared me for industry by giving me all the tools necessary to succeed. They stressed the importance of having a good attitude, working hard, and putting your best work forward. All of that was instilled while teaching us the technical skills we needed to be successful engineers.

McKenzee O'Neill

B.S. in Mining Engineering, 2018

Underground Mine Control Systems Engineer at OceanaGold - Haile Underground
Explore Classes for the Mining Engineering Degree
Montana Tech offers a Bachelor of Science and a Master of Science in Mining Engineering. Coursework includes classes in mathematics, science, and engineering. Mining Engineering graduates have a strong background in mining, excellent engineering and design skills, and great computer and communication skills. Your coursework also gives practical experience in the mining industry. Mining engineering students will design, construct, and manage surface and underground mines in an environmentally responsible manner.
Learn More About Mining Engineering at Montana Tech
Mining Engineering Department
Meet faculty, explore our research expertise, and more.
Mine Conference
The Mine Design, Operations & Closure Conference is back for its 31st year!
Related Programs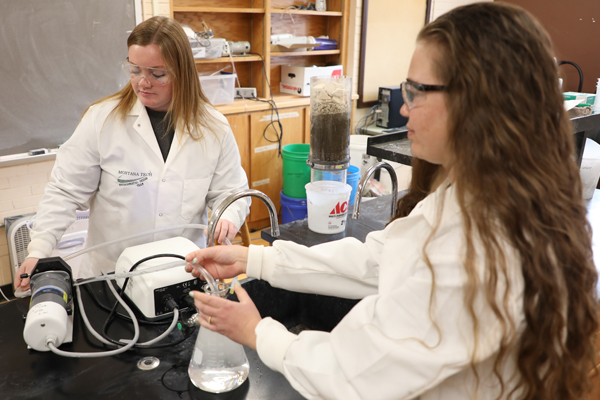 Environmental Engineering
Study air and water pollution control, hazardous wastes, soils remediation and more.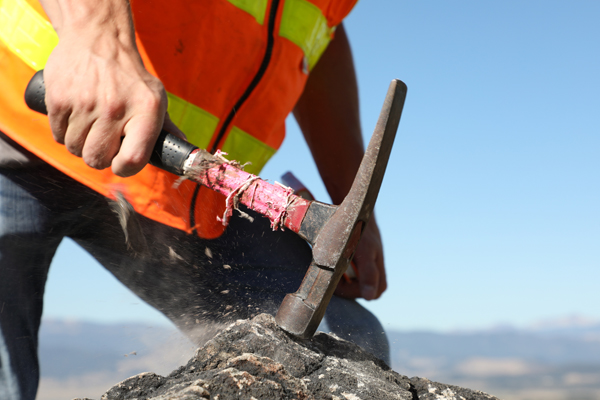 Geological Engineering
Design solutions to problems related to the materials of the Earth's crust.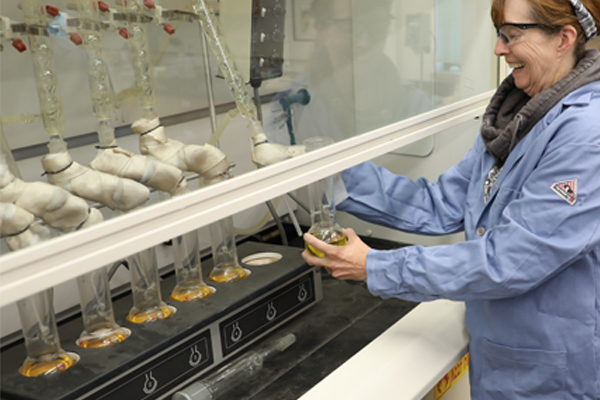 Petroleum Engineering
Learn to use mathematics, physics, and geology to address and solve important issues that lead to energy security.
Connect with us.
We can answer your questions and help you get started.
Scott Rosenthal, PE
Department Head/Associate Professor
srosenthal@mtech.edu
406-496-4867