Mechanical Engineering, B.S.
Through classes and hands-on labs, you'll prepare for in-demand, high-paying careers in aerospace, manufacturing, semiconductor, HVAC, petroleum, and mining fields.
Why Study Mechanical Engineering at Montana Tech?
Develop the fundamental concepts to better the human condition and solve problems across society through the ABET-accredited mechanical engineering bachelor's degree at Montana Tech. Montana Tech boasts an 88.24% career outcome rate for the mechanical engineering degree.
Choose from Four Focus Areas
You can focus your mechanical engineering degree on one of four areas: control systems, nanotechnology, mechanical design, and welding.
World-Class Labs and Equipment
You'll have access to state-of-the-art research facilities on campus with interdisciplinary collaborations across the engineering and sciences. The Montana Tech Nanotechnology Laboratory (MTNL), for example, houses a world-class cleanroom facility with niche fabrication and characterization equipment for the creation and study of devices and materials enabled through nanotechnology. You'll work on groundbreaking research alongside your professors. Mechanical Engineering faculty also play a key role in Montana Tech's Center for Advanced Materials Processing (CAMP), which plays a key research and education role in Montana and across the nation.
Mechanical Engineering Internships
Obtain even more hands-on experience through mechanical engineering internships. Each year, through Career Services events, you'll have access to more than 100 companies that come to campus to recruit Montana Tech students for mechanical engineering summer internships for continuing students and full time employment for our graduates.
Exceptional Location
By choosing Montana Tech for your mechanical engineering degree, you'll benefit from our location in Butte, Montana. You can and tour local engineering operations and pursue internships in Butte as well as in nearby cities such as Bozeman and Missoula. You'll also have innumerable opportunities to enjoy Montana's great outdoors.
Experienced, Connected Faculty
You'll learn from Montana Tech faculty who on average have more than a decade each of real-world mechanical engineering experience. They maintain close ties to industry and engage in research that makes the world better. These dedicated scholars also care about your professional and personal development and will go above and beyond to help you succeed.
Study Mechanical Engineering and Have Fun Too
Develop in areas outside of the classroom by getting involved in academic and special interest clubs and organizations on the Montana Tech campus. You also have easy access to outdoor adventures, such as skiing at nearby resorts or in the backcountry; enjoying southwest Montana's hot springs; hiking the Great Divide and other trails; and fishing in pristine mountain streams.
Be Career Ready
The mechanical engineering degree at Montana Tech prepares you for careers in nearly every industry, including automotive, aerospace, biomedical, electronic, manufacturing, automation, power, petroleum, mining, construction, HVAC, and consulting. The broad nature of the mechanical engineering degree also equips you for graduate studies in engineering, science, medicine, and law.

Engaged Faculty with Experience and Expertise

Engineering Accreditation Commission of ABET

Focus Area: Control Systems

Focus Area: Welding Engineering

Focus Area: Nanotechnology

Focus Area: Mechanical Design
What is Mechanical Engineering?
The field of mechanical engineering is concerned with the design, fabrication, and use of machines—everything from small devices to spacecraft. Mechanical engineers solve modern and emerging problems by applying math, science, and physics. They hold a broad knowledge across the sciences and engineering and go on to specialize throughout their careers.
What Kinds of Jobs Do Mechanical Engineers Get?
From mechanical engineer to automotive engineer, Montana Tech mechanical engineering graduates follow a variety of career paths in nearly every industry. For example, after receiving their mechanical engineering degree, two of our graduates went on to earn their master's in mechanical engineering at Montana Tech and received international attention for their nanotechnology research.

$95,300 Median Annual Salary, 2021

4% Projected Career Growth Through 2028
Choosing Montana Tech for my mechanical engineering degree was not only the right thing to do, but it was the best thing to do.

Nathan Sutton

B.S. Mechanical Engineering, 2015

M.S. Mechanical Engineering, 2017

Gas Plant Process Engineer, Hess Corporation
Explore Classes in Mechanical Engineering
Start with the fundamentals in science, physics, and math and culminate in a year-long capstone senior design project where you develop and showcase your capabilities. The mechanical engineering degree includes courses in advanced thermodynamics, vibrations, nanotechnology, welding, product development, impact dynamics, aerospace, machine design, HVAC, and control systems. Prepare for future leadership roles by learning the fundamentals of engineering economics and project management, too. Develop specialties by choosing one of four focus areas.
Learn More About Mechanical Engineering at Montana Tech
Mechanical Department
Meet faculty, explore our research expertise, and more.
ASME
Join other students in contests, challenges, and professional networking opportunities.
Catalog Details
Get semester-by-semester info about mechanical engineering courses.
Related Programs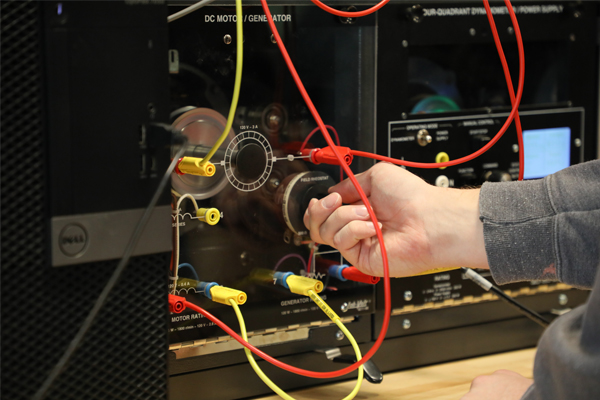 Electrical Engineering
Go further with advanced study of energy and power, automation and controls, signal processing, and instrumentation.
Civil Engineering
Learn to design, build, supervise, and construct sustainable projects and systems.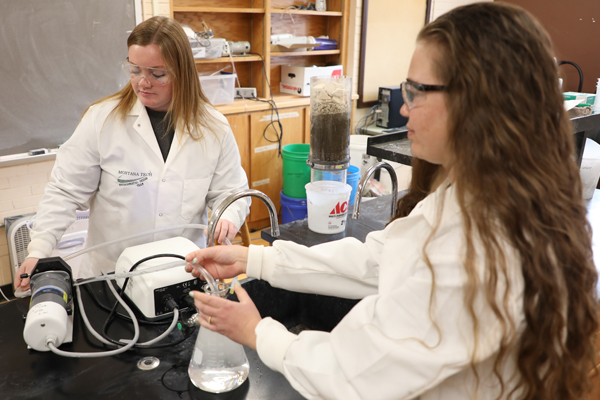 Environmental Eng.
Learn to understand, address, and develop solutions to complex environmental problems.
Connect with us.
We can answer your questions and help you get started.
Julie Crowley
Administrative Assistant
jcrowley1@mtech.edu
406-496-4184