Montana Tech Announces Natural Resources Research Center
01/16/2015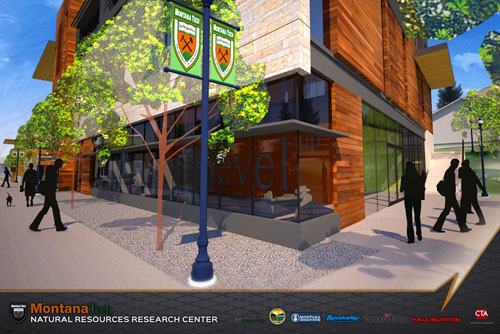 Montana Tech today unveiled plans for the newest building on campus, the Natural Resources Research Center (NRRC). At a press conference this morning, campus representatives announced they will break ground in April 2015 and have secured the necessary $5 million in private matching funds to move forward. This gift matches $5 million in support from the 2013 legislature that in total make this new facility a reality.
Representing the three companies providing the $5 million in private funding were Ryan Lance, chairman and chief executive officer of ConocoPhillips and Montana Tech alumnus; Jim Brown, Halliburton Western Hemisphere president; and Jackie Davis, Anadarko general manager and Montana Tech alumnus.
A packed room included Steve Bullock, governor of Montana; Clayton Christian, commissioner of Higher Education; Montana legislators; Montana Tech administration, students, faculty and staff; along with Montana Tech alumni, Jerry Schuyler, retired, president and chief operating officer of Laredo Petroleum Inc; Tom Bandy, partner with Iron Horse Resources and Rosedale Capital Partners, LLC.; Adam Gollofon, Anadarko operations engineer; Tommy Miller, Anadarko senior staff reservoir/production engineer; and Scott ODell, Halliburton district manager.
Joe McClafferty, Montana Tech vice chancellor for Advancement and University Relations and president of the Montana Tech Foundation, led off the press conference thanking those in attendance. McClafferty went on to relay the need for Montana Tech to graduate more engineers. "Currently, one out of every 100 ninth graders entering high school will eventually graduate from college with an engineering degree," noted McClafferty. "Each year, China and India combined are graduating 550,000 engineers and the United States is graduating only 80,000. This building is the start to Montana Tech graduating more engineers."
The 63rd Legislature, working with our local legislators, appropriated $5 million and authorized an additional $5 million in spending authority for the building. The NRRC will provide much- needed laboratory space for natural resources and energy undergraduate and graduate education and research on campus. The three-story, approximately 32,000 square foot addition to the Engineering Laboratory Classroom (ELC) Building will create state-of-the-art laboratories, workspaces and support spaces. The addition includes a petroleum research lab, nano research lab, energy lab, strengths & materials testing lab, composites & wood testing lab, occupational safety and health lab, campus-wide student project studio area, dedicated equipment and machinery rooms, student support areas, office space, general support space, and unfinished space for future growth. Renovations of the existing ELC (60,779 square feet) include Americans with Disability Act accessibility upgrades, safety system upgrades, and modifications in support of a building addition.
Montana Tech chancellor Don Blackketter announced the news about Anadarko Petroleum Corporation, ConocoPhillips, and Halliburton teaming up to make the $5 million donation to Montana Tech. "I am grateful to Anadarko, ConocoPhillips, and Halliburton and our alumni and Foundation for believing in Montana Tech and for helping the engineers of the future," noted Blackketter. "Thank you to our legislators, commissioner Christian along with Montana native Ryan Lance, who played a lead role in securing the private support, along with his peers, Dave Lesar, chairman, president and chief executive officer of Halliburton; and Al Walker, chairman, president and chief executive officer of Anadarko Petroleum Corporation."
The building will complement the existing ELC Building and reinforce the urban character of the Montana Tech campus. In addition, the expansion will feature appropriate areas of glass to showcase student and faculty research and projects.
Sandy Stash, Montana Tech Foundation board chair, was not able to attend, but relayed her excitement for the building, "Practical, hands-on experience is critical for today's engineers. This world-class facility will give Montana Tech a real leg up in providing this to our students."
The building will break ground in spring 2015 and will open in fall 2016. For more information and to view architectural renderings of the building, please visit foundation.mtech.edu/nrrc.
About Anadarko Petroleum Corporation
Anadarko Petroleum Corporation's mission is to deliver a competitive and sustainable rate of return to shareholders by exploring for, acquiring and developing oil and natural gas resources vital to the world's health and welfare. As of year-end 2013, the company had approximately 2.79 billion barrels-equivalent of proved reserves, making it one of the world's largest independent exploration and production companies. For more information about Anadarko and APC Flash Feed updates, please visit www.anadarko.com.
About ConocoPhillips
ConocoPhillips is the world's largest independent E&P company based on production and proved reserves. Headquartered in Houston, Texas, ConocoPhillips had operations and activities in 27 countries, $55 billion in annualized revenue, $119 billion of total assets, and approximately 19,000 employees as of Sept. 30, 2014. Production from continuing operations, excluding Libya, averaged 1,520 MBOED for the nine months ended Sept. 30, 2014, and proved reserves were 8.9 billion BOE as of Dec. 31, 2013. For more information, go to www.conocophillips.com.
About Halliburton
Founded in 1919, Halliburton is one of the world's largest providers of products and services to the energy industry. With more than 80,000 employees, representing 140 nationalities in over 80 countries, the company serves the upstream oil and gas industry throughout the lifecycle of the reservoir – from locating hydrocarbons and managing geological data, to drilling and formation evaluation, well construction and completion, and optimizing production through the life of the field. Visit the company's website at www.halliburton.com.