Financial Aid
Apply for Scholarships
Montana Tech offers over $1.6 million in scholarships to each new incoming class.
To help make the scholarship process a bit easier, we have a general scholarship application that considers you for all scholarships you qualify for. All you need to do is fill out the application by December 15 and we will take care of the rest. Keep in mind that all scholarships are competitive so apply early and every year; there is an additional $2 to $3 million in scholarships available for continuing students.
Continuing students are students that are currently enrolled as a regular student at Montana Tech pursing an undergraduate degree (bachelor's or associates) or certificate. Continuing students should complete the Continuing Student Scholarship Application for scholarships.  The application is due by February 15, 2019 for the 2019-2020 academic year. It is recommended that you use Firefox as your browser. 
Your name, student ID and major will automatically populate with the information from our student information system.  If your major is not correct, you must submit a change of major form to Enrollment Services prior to February 15th.  If you would like to add any additional information that you feel will make your application more competitive, please email the information to scholarship@mtech.edu or, if you are submitting an essay, please submit the essay to scholarship@mtech.edu.  If you are double or triple majoring, please email scholarship@mtech.edu with your other major(s).
If you are a new or continuing Graduate Student, please complete the Graduate Student Scholarship Application for the 2018-2019 academic year.
New Students - How to Apply for Scholarships
New students are students that have never attended Montana Tech except to take courses while in high school. New students should complete the scholarship application process by the priority deadline of December 15th.
To apply for a scholarship, you must first apply for admission to Montana Tech.
As soon as your application has been processed, you will receive an e-mail with a link to your personal website. Once you log on to your website, fill out the scholarship application outlined in the instructional steps below.
Step 1
Log in and click on "Apply for Scholarships" on the left side of the page.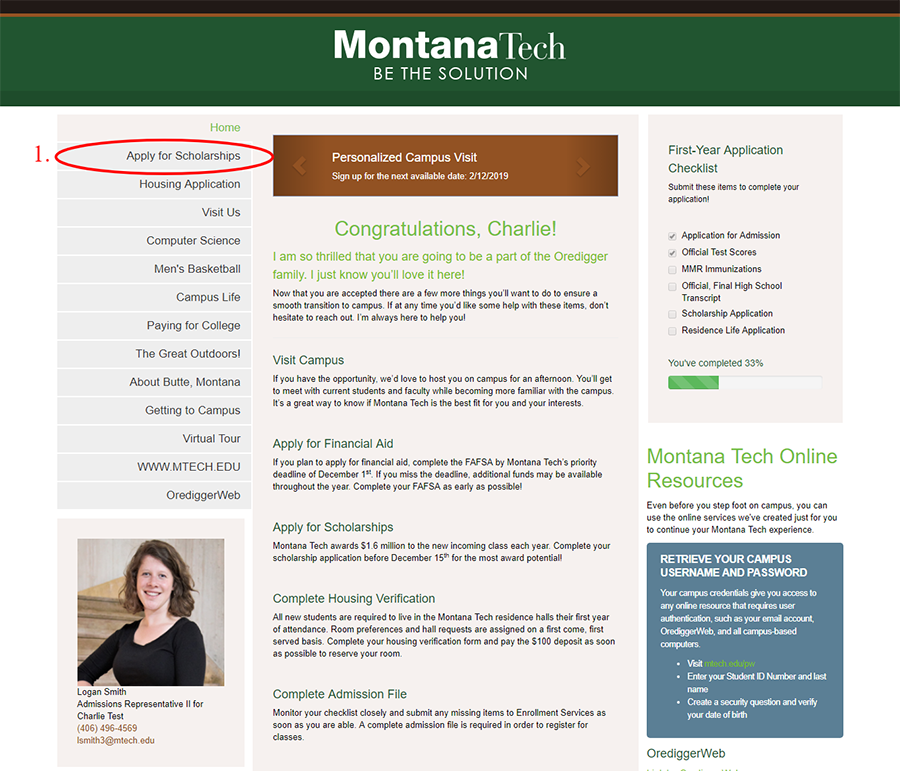 Step 2
Fill out the application on the Apply for Scholarships page.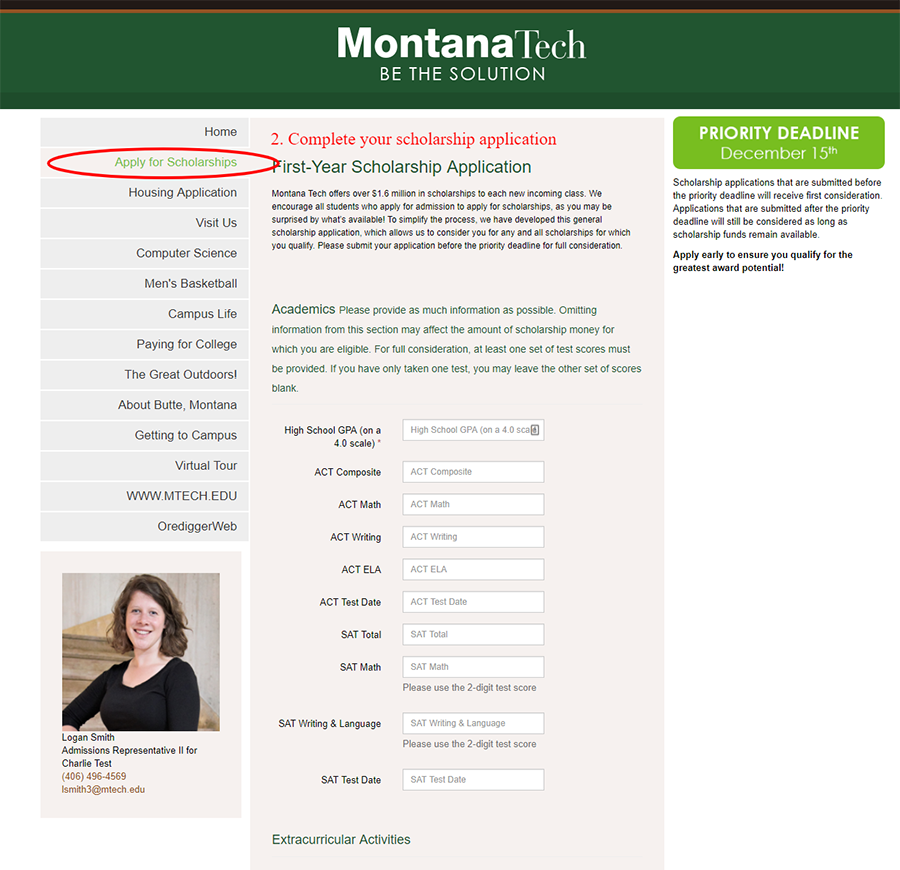 Step 3
Once your application is completely filled out, click "Go."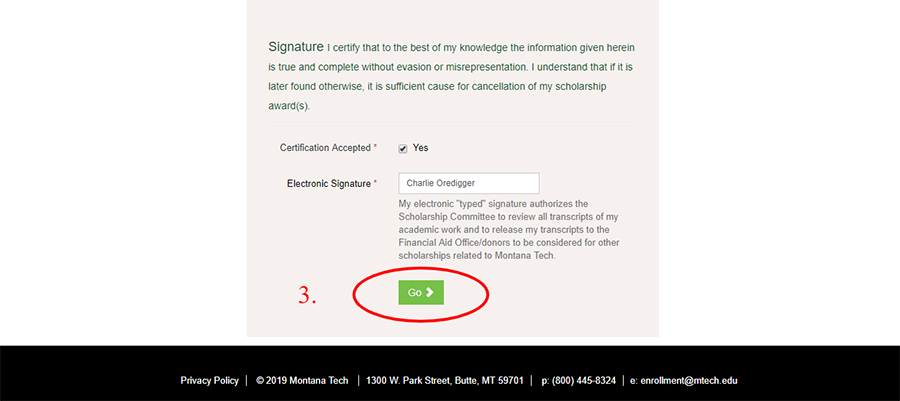 Step 4
If your application is successfully submitted you will see a confirmation page thanking you for your submission.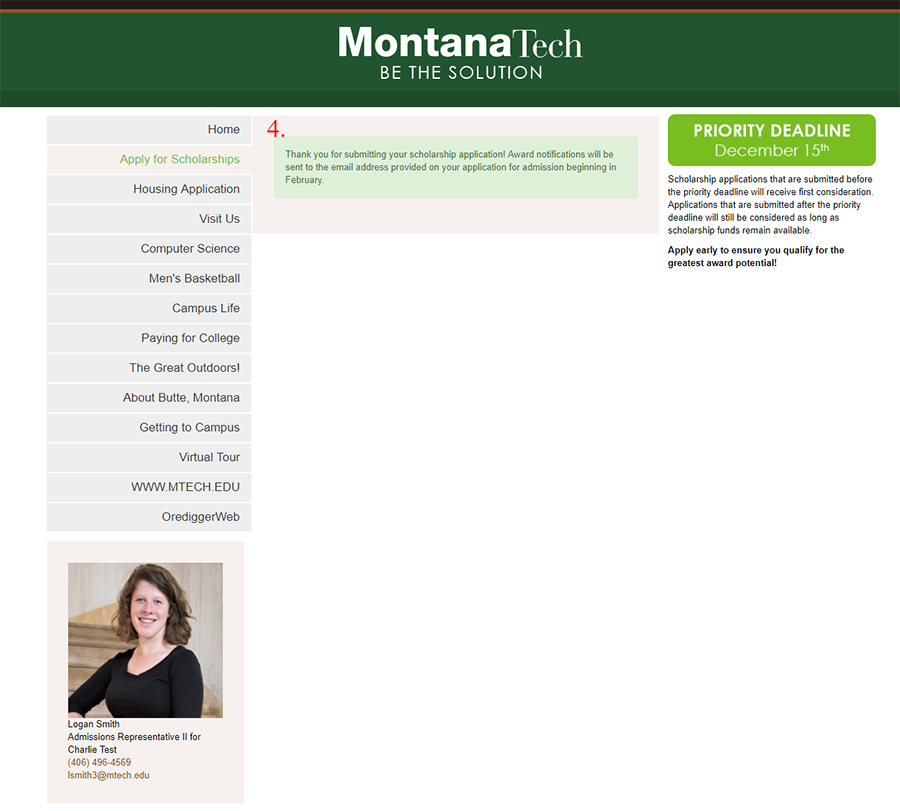 We encourage all students who apply for admission to apply for scholarships as you may be surprised by what's available and how much you could receive. While there are hundreds of scholarships available, some of the most sought after are listed on the Featured Scholarships Page.