Environmental Engineering
Bachelor of Science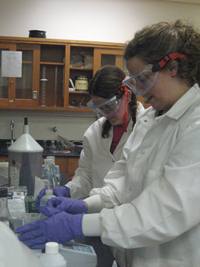 Montana Tech offers a unique environmental engineering experience in one of the premier environmental engineering departments in the United States. Students receive a broad education encompassing fundamental engineering, air quality and control, water and wastewater, land and stream restoration and reclamation, and sustainability.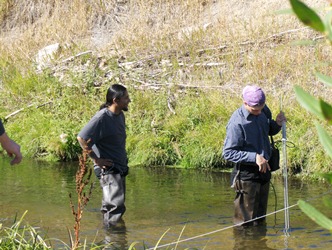 Students enjoy low student-faculty ratios and an open-door policy that allows them to receive the help they need to succeed in a rigorous curriculum. Students participate in a hands-on computer-based design course in their first year, environmental sampling laboratory courses in their second year, and a capstone project in their fourth year. Some of our senior design groups compete nationally at the WERC Environmental Design Competition. Students may broaden their education by completing a 5-year BS/MS or a certification in Restoration Ecology.
Environmental Engineers Solve Complex Problems. How can we address the threat of global warming while promoting economic growth and social justice? How do we design a future without waste, where all outputs from industrial operations are used beneficially elsewhere? How do we meet growing demands for food, high-quality water, and sustainable energy? These are some of the questions environmental engineers work to answer.
Environmental Engineers Work Well with Others. Fundamentally an interdisciplinary field, environmental engineering encompasses engineering, mathematics, biology, chemistry, and geology. Environmental engineers work in industry designing processes that prevent air and water pollution and hazardous waste generation; they work for consulting firms that assist municipalities and companies in a variety of complex problems; they work for government to help develop policies and regulations that protect the environment. Some environmental engineers pursue advanced degrees and become researchers in industry, work in national labs, or teach in universities.
Environmental Engineers Help Industries Protect the Environment. Most industries hire environmental engineers to help them meet air, water, and hazardous waste regulations. Thus, environmental engineers may work for mining, power, petroleum, or chemical companies to help them reduce their impact on the environment. The employment opportunities are broad—a few of our graduates have started their own consulting companies.
At Montana Tech, Environmental Engineers are immersed in a hands-on learning environment. Montana Tech is located in Butte, a historic mining town located in one of the largest Superfund complexes in the United States. Our students go on field trips to see mining operations, remediation and restoration projects. The town also houses some state-of-the-art facilities, including one of two ceramic membrane water treatment plants in the country. In the summer, our students participate in a variety of internship opportunities, and they experience excellent career outcomes.
Our students also have fun! They are active in the Environmental Engineers at Montana Tech Club, Engineers Without Boarders, and many other clubs on campus. They also enjoy the great Montana Outdoors—skiing at nearby ski hills or in the backcountry, enjoying one of Southwest Montana's hot springs, hiking the Great Divide and other trails, or fishing in pristine mountain streams.
Career Outcomes