Chemistry and Geochemistry
Faculty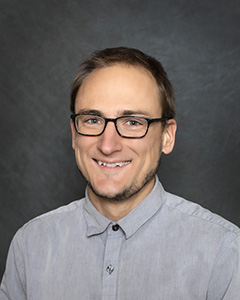 Dr. John Kirtley
Assistant Professor of Physical Chemistry
B.S., Mathematics Teaching, 2009, Montana State University
Ph.D., Chemistry, 2015, Montana State University
Email: jkirtley@mtech.edu
Phone: 406-496-4194
Office: CBB 214
Biosketch
Dr. John Kirtley joined the Department of Chemistry/Geochemistry in the fall of 2019. He grew up in Montana and earned both his B.S. in Mathematics Teaching (2009) and Ph.D. in Chemistry (2015) at Montana State University. His dissertation research focused on adapting and implementing operando Raman, infrared, and electrochemical techniques to study high-temperature chemistry of solid oxide fuel cells (SOFCs). A primary focus was to understand electrocatalyst-fuel interactions. In 2015, Dr. Kirtley continued his SOFC research at the US Naval Research Laboratory in Washington, D.C. after being awarded a National Research Council postdoctoral fellowship. There, he focused mainly on poisoning and reforming mechanisms often associated with biofuels. Dr. Kirtley then accepted a second postdoctoral position with Washington State University in Spokane, WA. There he investigated Raman spectroscopy as a remote sensing technique for high-temperature combustion processes. In the fall of 2018, he accepted a Visiting Assistant Professor position at Whitworth University in Spokane.
Outside of work, Dr. Kirtley is blessed to share life with his wife and three children, especially in the Montana outdoors. Some of his interests include running, playing music, hiking, and hunting.
Research Interests
Dr. Kirtley's research focuses on developing direct insights into high-temperature chemistry, with an eye on optimizing materials/processes that support environmental sustainability. For example, biofuels as an energy source in solid oxide fuel cells promise efficient, clean and renewable electricity generation. However, detrimental fuel-electrocatalyst interactions often undermine these advantages, especially at the required high-temperature, harsh environments. Dr. Kirtley plans to use his optical and electrochemical expertise to directly probe catalytic surface mechanisms on various materials, with the intent of guiding the design of new electrocatalysts. Another area of research includes developing biochar as a tunable platform for various environmental and even military applications. Biochar is produced when biomass is slowly heated under anaerobic conditions (pyrolysis). Because the product varies widely with its feedstock and heating method, rich opportunities exist to directly probe pyrolysis chemistry, while optimizing the products for various purposes.
Selected Publications
Kirtley, J.; Leichner, V.; Anderson, B.R.; Eilers, H. "A comparison of pulsed and continuous lasers for high-temperature Raman measurements of anhydrite." J. Raman Spectrosc., 2018, 49 (5), 862-871.
Kirtley, J.D.; Qadri, S.N.; Steinhurst, D.A.; Owrutsky, J.C., "In operando, simultaneous observation of infrared molecular emission spectra and thermal images from solid oxide fuel cell electrodes." J. Power Sources, 2016, 336, 54-62.
Kirtley, J. D.; Steinurst, D. A.; Owrutsky, J. C.; Pomfret, M. B.; Walker, R. A. "In situ optical studies of methane and simulated biogas oxidation on high temperature solid oxide fuel cell anodes." Phys. Chem. Chem. Phys., 2014, 16, 227-236.
Kirtley, J.; Singh, A.; Halat, D.; Oswell, T.; Hill, J. M.; Walker, R. A. "In situ Raman studies of carbon removal from high temperature Ni-YSZ cermet anodes by gas phase reforming agents." J. Phys. Chem. C., 2013, 117, 25908-25916.
Kirtley, J.D., Halat, D.M., McIntyre, M.D., Eigenbrodt, B.C., and Walker, R.A., "High-Temperature 'Spectrochronopotentiometry': Correlating Electrochemical Performance with In Situ Raman Spectroscopy in Solid Oxide Fuel Cells." Anal. Chem., 2012, 84 (22), 9745-9753.
Energy
Sustainability
Materials and Manufacturing
Energy Materials, Biomaterials