Interdisciplinary Arts and Sciences
Faculty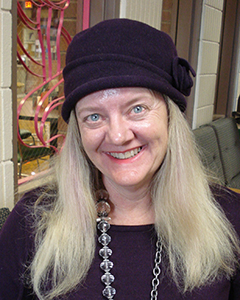 Elyse D'nn Lovell
Instructor
406-496-3786
Highlands College 115C
Contact Elyse D'nn Lovell »
View Elyse D'nn Lovell's CV »
Biography
Elyse D'nn Lovell, EdD, AKA Dr. Mom, is dedicated to creating and promoting learning environments which meet the individual needs of learners while inspiring academic success. More than a decade of teaching experience shows a culmination of published student-researchers (32 undergraduate students published in peer reviewed journals and nine under review), service learning, technology use, and group activities in psychology, sociology, and gerontology.
Credentials include Gerontology, MEd, and Higher Education Teaching, EdD. Personal interests include hiking, yoga, and family time with John, adult children – Lindsey, Courtney and their partners, four-legged child, and four grand-cats.
Selected Publications
Lovell, E.D., & Scott, R. (2019). Community college single-parent students' angst:  Inequities balancing roles as parent and student.  Community College Journal of Research and Practice. DOI: 10.1080/10668926.2019.1576071
Lovell, E.D., Shelton, R., Draper, J. & Wait, V. (2019).  Student-researchers explore cell phone socialization and addiction:  Strengthening academic and community connections.  Community College Journal of Research and Practice. DOI: 10.1080/10668926.2019.1573157
Lovell, E.D., Casey, M., Randall, L., Isaacson, C., Bell, M., Fox, H., Stephenson, K., Scott, A., LaFond, A., Seccomb, E., & Tadday, B. (2018). Intergenerational exchange:  undergraduate researchers' learning and listening enhanced through older adults' entertainment preferences. Educational Gerontology (44)7. DOI.10.1080/03601277.2018.1505334
Shelton, R. & Lovell, E.D. (2018). Community college student-researcher discovers classmates' increased empathy levels viewing TEDx talk video. Community College Journal of Research and Practice.  Doi.org/10.1080/10668926.2018.1456377
Lovell, E.D., Marjamaa, J.R., Shortnacy, N. G., Cevera, K.M., Rainville, A.J., Baker, C.J.,  Nalivka, S.I., Mendoza, A.S., Lamping, S.D., Davis, M., & Thompson, J.R. (2017).  First and second year gerontology students: Research activities heightened connectedness to learning. The Journal of Gerontology & Geriatrics Education (39)3. doi.10.1080/02701960.2017.1285294
Lovell, E.D. & Munn, N. (2017). Introduction to psychology students' parental status predicts learning preferences and life meaning, The Journal of the First-Year Experience & Students in Transition (29)4.
Lovell, E.D. & Elakovich, D. (2016). Developmental math pilot: Massive open online course (MOOC) psychology concepts and group work, Community College Journal of Research and Practice. Print Pending.
Lovell, E.D. & Shortnacy, N.G. (2016). Negotiating boundaries and roots through the lens of 103 years: Ageism, Family Balance, and Time, Educational Gerontology (42)8.
Lovell, E.D. (2014). Female college students who are parents: Motivation clarified by the ages of their children, Community College Journal of Research and Practice, (38)4, 370-374.
Lovell, E.D. (2014). College students who are parents need equitable services for retention. Journal of College Student Retention Research Theory and Practice, 16(3), 187-202.
Lovell, E.D. & Karr, E. (2013). I have to take this psychology stuff with research too – Really?! International Journal of Adult Vocational Education and Technology, 4(4), 13-24.
Lovell, E.D. & Palmer, B. (2013, March/April). Engaging introductory writing students through Facebook assignments. About Campus, 18(1), 25-28.
Lovell, E.D. (2012). Differences between college student-parents' and non-parents' factors of motivation and persistence. In McGill, C.B., King, K.P (Eds.), Adult Learning in Our Complex World (pp. 125-141). Charlotte, NC: Information Age Publishing, Inc.
Courses Taught
Gerontology: Psychology of Aging, Aging and Society, Independent Study Research, Psychological Research Methods
Psychology / Sociology: Introduction to Psychology, Research Methods, Educational Psychology, Math Success, Independent Study Research, Introduction to Sociology
Communications: Interpersonal Communications
Undergraduate Student-Researcher Publishing Mentorships / Student Scholarships
32 published student authors 2016 to 2019 and nine student-authors under review with journals to publish
21 student researchers received awards at TechExpo 2016 to 2019
Eight Student Researcher Scholarship recipients 2015 to 2019
Research Interests
Research interests are driven by observations of students' learning particularly where students' academic success and stress management may be improved. The publishing of undergraduate students in peer reviewed journal articles is particularly rewarding.
Career in Brief
Highlands College of Montana Technological University, Butte, MT
General Studies Instructor, Tenured, (August 2014 - Present)
Helena College of University of MT, Helena, MT
Psychology Instructor, Tenure Track, (August 2012 – May 2014)
Highlands College of Montana Tech of University of MT, Butte, MT
Instructor, Adjunct, (January 2009 – May 2012)
Enid Public Schools, Enid, OK (August 2006 – May 2008)
Carver Adult Ed Center, Adult Ed / GED, (Aug 2007 – May 2008)
English as a Second Language (ESL), Math, History, English
Longfellow Junior High, Teacher History (Aug 2006 - May 2007)
Northern OK College, Stillwater, OK (Aug 2005 – May 2006)
Adjunct Instructor Sociology: Intro to Sociology, Am History to 1865, Am History 1865 to Present
Selected Honors & Awards
Outstanding Researcher Award for Montana Tech of the University of Montana
Award Recipient, April 2016
Nominee, May 2015
Faculty Development Initiative Grant Awarded Fall 2015 / Spring 2016
Outstanding Doctoral Student in Adult and Higher Education
Montana State University (MSU) May, 2011
Arthur Chickering Scholarship
Adult Higher Education Alliance (AHEA), 2011