Interdisciplinary Arts and Sciences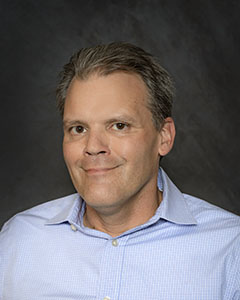 Faculty
Chris Danielson, Ph.D.
Professor of History
Main Hall 210
(406) 496-4441
Biography
I was born and raised in Houston, Texas, where I had a lifelong love of history instilled in me by quality teachers in intermediate and high school. I attended and graduated from the University of Houston with a BA and MA in history, and because of my interest in the civil rights movement, I then attended the University of Mississippi. I received my Ph.D. in 2006, and then taught in temporary positions in New Zealand and Michigan before coming to Montana Tech in 2009. I enjoy reading, hiking, movies, fantasy role-playing games, and similar pursuits, but I still haven't quite embraced a winter sport yet.
Research Interests
My research interests include African-American History, specifically the civil rights movement with a focus on voting rights and the political realignment of the Deep South. From that research I became interested in the rise of conservatism in the United States, and that intersected with my interest in role-playing games and the moral panics over them in the 1980s. This has led me to begin research on the connections between grassroots conservative mobilization over issues in popular culture (role-playing and video games, rock music, etc.) and their connections to the rise of the New Right in the United States in the 1970s and 1980s.
Selected Honors & Awards
Montana Tech Merit Award, awarded March 7, 2013.
Montana Tech Distinguished Researcher Award, awarded May 4, 2012
Franklin L. Riley Prize for Outstanding Doctoral Dissertation on Mississippi History, 2006-07, awarded by the Mississippi Historical Society, March 8, 2008.
Public lecture on The Color of Politics at the University of Houston-Victoria, Victoria, Texas, March 20, 2014
Research talk at the Institute of Czech Literature, Prague, Czech Republic, May 31, 2012.
Courses Taught
HSTR 101 (Western Civilization I)
HSTA 101 (U.S. History I)
HSTR 201 (20th-Century World History I)
HSTR 102 (Western Civilization II)
HSTA 102 (U.S. History II)
HSTR 202 (20th-Century World History II)
HSTA 322 (U.S. History: World War II to present)
HSTA 398W (U.S. Women's History)
HSTA 344W (The African-American Struggle for Equality)
HSTA 350 (Indians of the Northwest)
Selected Publications
"Right Turn? The Republican Party and African-American Politics in Post-1965 Mississippi." Glen Feldman, ed. Nation Within a Nation: The American South and the Federal Government. University Press of Florida, 2014.
Sue Schrader, Chris Danielson and Scyller J. Borglum, "Investigating Connections between Industry Affiliation and Climate Change Attitudes," in , J.L. Drake et al. (eds), New Trends in Earth-Science Outreach and Engagement, Springer International Publishing, Switzerland, 2014.
The Color of Politics: Racism in the American Political Arena Today, Praeger Press, 2013.
After Freedom Summer: How Race Realigned Mississippi Politics, 1965-1986, University Press of Florida, 2011.
'"Lily White and Hard Right': The Mississippi Republican Party and Black Voting, 1965-1980," Journal of Southern History, February 2009.