Welcome Dr. Craig Elliott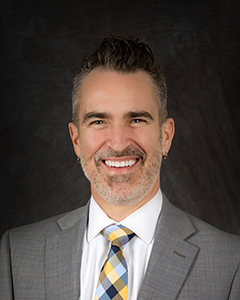 This week Montana Technological University welcomed Dr. Craig Elliott as our first vice chancellor for student affairs and dean of students. Elliott will oversee the university's admissions, campus life, career services, counseling, dining, enrollment, financial aid, international, student success, and wellness departments.
Elliott, a seasoned leader in higher education, comes to Montana Tech from Samuel Merritt University (SMU) in Oakland, California. At SMU, he served as the assistant vice president for student affairs/dean of students and assistant professor for 19 years.
"I am thrilled to lead alongside Chancellor Cook and the campus community at this important time and place," noted Elliott. "Montana Tech's reputation for academic excellence, transformative learning, social action, and living lives of purpose align with my service, leadership, and social change values. Leading on a college campus, particularly today requires genuine engagement and hard work. I look forward to building deep, authentic relationships, celebrating our strengths, and partnering for student success."
Before SMU, Elliott worked at San Jose State University, Saint Mary's College, and Stony Brook University. He is a student-centered, collaborative leader with a strong student access, equity, and success record.
Elliot has also led and served locally, regionally, and internationally, including through times of significant challenge and change. Notably, Craig served as President of ACPA-College Student Educators International from 2019-2020 and served as Vice President and Past President. He has also presented numerous programs at the local and national levels on student success, leadership, transformative learning, equity, inclusion, and social justice. He is actively involved in his community, serving as a coach and referee in soccer, a leader in Scouting, and on the board of World Trust.
"I'm excited to have someone of Craig's caliber join us as we build out our leadership team," said Montana Tech Chancellor Les Cook. "His experience at various institutions in several roles will be invaluable as we embark on our new strategic plan, which highlights student success as our number one goal."
Please join us in welcoming Dr. Craig Elliot to the Montana Tech family.