Montana Tech Announces Distinguished Alumni Awardees
May 4, 2017
Montana Tech will honor three alumni with the Distinguished Alumni Award at the university's 117th Commencement Ceremony on Saturday, May 6, 2017. This year's awardees are: George R. Burns, Dennis Chorney, and Jeff Stibbard.
The Distinguished Alumni Award is presented to alumni of Montana Tech, who established a professional career of at least 20 years, of which five years have been in a responsible capacity, and who has either contributed in an outstanding manner to the furtherance of his or her profession and/or has been an outstanding contributor to Montana Tech.
ABOUT THE RECIPIENTS:
George R. Burns
B.S. Mining Engineering, 1982


George Burns has over 35 years of mining experience including executive, operations, development, and engineering leadership roles in gold, copper, and coal operations. He is the President and Chief Executive Officer of Eldorado Gold, headquartered in Vancouver, British Columbia, Canada.
George has worked for several major mining companies over the years including:
• Goldcorp where he held the positions of Executive Vice President and Chief Operating Officer, Senior Vice President Mexico Operations and Senior Vice President, Canada, and United States Operations.
• Centerra Gold where he was Vice President and Chief Operating Officer
• Asarco in various capacities including Vice President of Mining
• Cyprus Minerals in various capacities including General Manager
• Anaconda Company while attending Montana Tech.
Mr. Burns received a Bachelor of Science degree in Mining Engineering from the Montana College of Mineral Science and Technology in December 1982. George is proud to have grown up in Butte, Montana and to have graduated from Montana Tech. He comes from a long family tradition in mining including his father, George Burns a geologist; brother, Tim Burns, mining engineer; sister, Liz Burns Howell, mining engineer; brother, Dan Burns, construction manager; many uncles that were mining engineers or who worked in the Butte mines to support their education; an uncle, Mel Poad, who also received the Distinguished Alumni Award; both grandfathers were underground miners in Butte and a great grandfather was a successful prospector.
George's wife Nara, mother Dana Burns and brother Tim are joining him at the Commencement Ceremony. He has four children: Brittney, a special education teacher in Arizona; Chris, a student in Washington; Shanell and Blaze are in grade school and keep his wife Nara and him very busy.
George and his family live in Vancouver, British Columbia, Canada. They enjoy the beach, skiing, biking, hiking, camping, traveling and family outings.
Dennis Chorney
B.S. Petroleum Engineering, 1980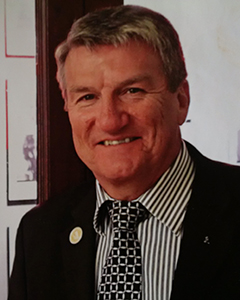 Dennis completed six years of post-secondary education from the University of Saskatchewan, Southern Alberta Institute of Technology and Montana Tech. Dennis spent the first 25 years of his career with a major Canadian exploration and production (E&P) company, PanCanadian Petroleum Ltd. throughout Canada, the US and Internationally. This was a wide-ranging technical career that began on the drilling rig floor and field operations and extended to senior engineering roles, executive management and company/industry board positions.
The past 20 years, Dennis has been involved in founding, co-founding, managing and participating with teams in directing the financing, exploration, development and production operations of a number of Canadian and International public and private E&P companies: Anglo Albanian Petroleum which became Bankers Petroleum; Argonauts Group Limited which merged into Cequel which spawned Ceries and Proex and ultimately Progress Energy; Argo Energy which became Sequoia Energy Trust which then merged with Daylight Energy; Tiger Cat Energy which became RMS Systems Inc; Norquay Capital which provided the vehicle for Xtreme Coil Drilling to go public; Sandy Cove Energy (Trinidad) which became Touchstone Exploration; and Marble Point Energy which became Teine Energy Ltd.
Dennis is currently Vice Chairman and co-founder of Teine Energy, a private E&P company financially partnered with the Canada Pension Plan Investment Board (CPPIB). Teine is exclusively focused on a Viking resource play in south western Saskatchewan controlling a million acres of land in the play with in excess of 5,000 further wells in proven inventory and current production of about 30,000 barrels of oil equivalent per day.
Throughout his career, he has been involved with advanced education and both local and international charities / NGO's through participation on various university, college and trade school advisory committees, foundation boards and SAIT's recent $125 million campaign cabinet. He continues to support and advocate for two main nonprofits in Calgary: Wood's Homes, originally an orphanage with a 100 year history that today provides services for some 10,000 at risk children and families per year in Alberta and Canada and, CAWST (the Center for Affordable Water and Sanitation Technology), a Calgary based NGO that developed and provides a simple creative technology that has touched the lives of more than 10 million of the world's poorest of the poor by teaching them how to provide their families with safe drinking water.
Dennis and his wife, Alexis (Lexie) have been married for 44 years and have three children: Matthew, Zachary and Natasha. Matt and Zach are also Montana Tech engineering alumni. The Chorneys call Calgary home, but can likely be found at their cottage on Lake Okanagan in the Canadian Rockies or wintering part-time in Maui or Mexico.
Jeff Stibbard
B.S. Mining Engineering, 1987  


Jeff is the founder and CEO of JDS Energy & Mining. He is a mining engineer with over 30 years of experience in mine design, construction and operations. JDS is a mid-tier mine evaluation, design, construction and operating company with several related surrogates, employing in excess of 150 professionals. Prior to establishing JDS, Jeff served in various capacities by leading the development and operations of mining projects around the world including: Mining Manager for BHP's Ekati Diamond Mine, General Manager of Mining for Albian Sands Energy Inc. in Fort McMurray, AB, and was a founding member of Western Oilsands Inc. – a 20% partner in the development of the Shell Muskeg River Mine in Fort McMurray. Jeff started his career in Canada at numerous mines in various positions including Production Supervisor at the Island Copper Mine in Port Hardy, BC, General Foreman at the Bell Copper Mine in Granisle, BC, and Mine Engineer at the Tartan Lake Gold Mine located in Flin Flon, MB.
Jeff holds a bachelor of science in Mining Engineering from Montana Tech. He is a Registered Professional Engineer in British Columbia, Northwest Territories and Alberta. Since founding JDS Energy & Mining Inc., Jeff has been presented with numerous awards including AME BC's Hugo Dennett Diamond Award (2015) and BC Export's Top 25 Exporters Award (2012). In 2016, Jeff was appointed Honorary Colonel of 19 Wing Comox for the Royal Canadian Armed Forces.