Montana Tech Recycling Guide
Montana Tech is currently in collaboration with AWARE Recycling in Butte, who will pick up the following recyclables: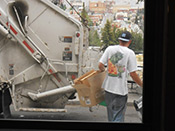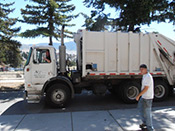 PAPER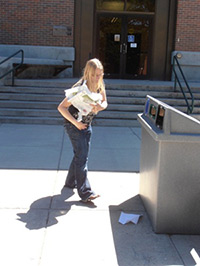 Office Paper
Shredded Paper (bagged only)
Envelopes
Junk Mail
Magazines
Newspapers
Books (must have binding removed - mailroom can do this for you))
 
CARDBOARD
Please flatten cardboard boxes yourself to make it easier for custodians to handle. Put flattened cardboard the bins at any of the designated bin locations. There is also a cardboard only bin on the loading dock of the SUB.
PLASTIC
#1 (PETE) – Water, Juice, Soda Bottles (empty)
#2 (HDPE) – Clear Milk Jugs (rinse thoroughly)
#3 through #7 are NOT currently accepted
OTHER
NOT ACCEPTED:
Please take note of the items Butte Recycling Does Not accept:
Glass 
Plastic Bags (grocery stores recycle these)
Coated Paper, Boxes, Cartons (waxed, foiled)
Wrapping and Construction Paper
Kleenex, Napkins, Paper Towels, Toilet Paper, Diapers
Waxed Drink Cups (pop, coffee)
Styrofoam (cups, food boxes)
Non-Plastic Milk/Juice Cartons (waxed)
Food and/or Wrappers
Appliances and Electronics
Metals
Rocks
 
E-WASTE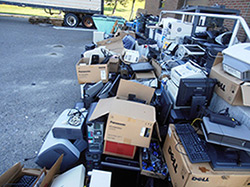 At least once a year Yellowstone E-Waste Solutions out of Billings picks up Montana Tech's unusable electronic equipment (e-waste). This equipment needs to be taken to a designated location the day before the scheduled pickup. Watch for an email announcement from Environmental Health & Safety for specifics. Hard drives must be cleaned or destroyed before recycling. Click here to see what Yellowstone E-Waste will accept.

If you have e-waste from home, NCAT sponsors a community event each spring. See their webpage for more information and a price list at http://www.ncat.org/.
PRINTER CARTRIDGES
The student club, Environmental Engineering of Montana Tech (EEMT), recycles printer cartridges to help support their travel to a conference each year. Contact EEMT at eemt@mtech.edu to pick up your cartridges, or you can take them to the mailroom in the SUB.
BATTERIES & CELLPHONES
Yellowstone E-Waste Solutions, Batteries Plus and Verizon Wireless recycle old cellphones. If the cellphone is still in working order and you upgrade, you can donate the working cellphone to Safe Space, and they provide emergency phone access to clients for safety purposes.
No one that we have found accepts alkaline batteries. Ni-Cad (nickel cadmium) and lead acid batteries are accepted by Batteries Plus (in other communities); Pacific Steel and Recycling in Butte only accepts lead acid batteries.
COMPACT FLUORESCENT BULBS
Old CFL bulbs, must be properly disposed of as they contain small amounts of mercury. They can be taken to stores such as Home Depot, Lowe's and Batteries Plus. Not all stores accept them.